Why Should You Use an Air Knife System?
Compressed air is highly inefficient and very expensive for drying applications and debris removal. The compressor horsepower required to create the necessary flow consumes an excessive amount of energy driving up utility costs. Consider a compressed air system used to dry product on a 36″ length span of a conveyor. Running 24/7, this system will cost over $1,434 per week to operate. However, utilizing an Air Knife System coupled with a regenerative blower, the cost is only a little over $104 per week to operate.
How Does an Air Knife System Work?
An air knife is a pressurized air plenum with a uniform continuous gap which pressurized air exits in a laminar flow pattern. The exiting air velocity creates an impact air velocity directly onto the surface of the product to shear away moisture or particulates without mechanical contact. This impact air velocity can range from a gentle breeze to greater than 40,000 feet per minute.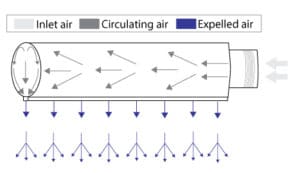 What are the Advantages of an Air Knife System?
An air knife system is a great solution for drying applications and debris removal that utilize expensive and inefficient compressed air systems. But that is not the only benefit; below are some other advantages of an air knife system:
Low energy consumption
Dry, clean, oil-free air stream
Filtered blower inlet to prevent particle contamination
Safe low-pressure air
Increased production speeds and output for a quick payback
Reduced sound levels when compared to compressed air nozzle or round tube design
Reduce costly compressed air usage and utility bills
Get Your Air Knife System Today!
Air Knife Applications
Air Knives are great for various applications, including drying, belt cleaning, and debris removal.
Air Knives for Drying Applications
Bottles & cans
Food products
Packaging
Fruits & vegetables
Meat, fish, & poultry
Textiles & carpeting
Wire & cable
Metal
Tile
Wood
Flooring
Coiled steel
Hanging parts
Extrusions, hose, plastics, & film
Batteries
Medicine vials
Stamping, forgings, & machined parts
Air Knives for Belt Cleaning Applications
Debris removal
Sawdust removal
Confectionery removal
Food topping removal
Liquid blow-off
Other Air Knife Applications
Coating control of food & confectionery topping
Reduce static
Remove unwanted liquid
Keep items from slipping through conveyor belt gaps
Prevent hot air loss
Prevent cold air loss
Coating control of primers, glue, adhesives, & inks
Crumb removal
Pan cleaning