Eliminate compressed air system leaks
Leaks in your compressed air system lead to machine depreciation, decreased efficiency, and an increase in downtime and related costs. At Cullum & Brown, we are proud to conduct leak detection services on your compressed air systems using the latest technology.
As part of your preventative maintenance bundle, we use SONOTEC's Sonaphone© to find leaks quickly. This digital ultrasonic tool helps us detect and monitor compressed air leaks efficiently and thoroughly. Customized reports guide our maintenance plan to get your air systems up and running at full capacity.
How it Works
Using SONOTEC's system, our team at Cullum & Brown can find all leaks in your compressed air system, even when testing in a loud environment, this means no downtime! This is because the Sonaphone© uses a frequency up to 100 kHz to detect leaks. The technology can accurately identify the size and location of each leak. The data is then analyzed, and a custom report is created.
Custom Reporting to Plan Maintanence
The Sonaphone© app allows us to generate custom reports, record voice memos and take extensive notes. The experts at Cullum & Brown use this information to partner with you and map out the repair plan. Our knowledge, combined with SONOTEC's digital leak detection technology, will help you decrease energy usage, lower operating and future maintenance costs, and increase your machine's productivity. Learn more here.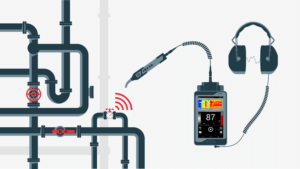 Let's Talk Solutions
From turnkey equipment and system installs to 24/7 emergency service, we can help.
Contact Us