The Complete Guide to Gardner Denver Air Compressors & Blowers
Learn all you need to know about Gardner Denver air compressors and blowers so that you can make an informed decision about which air compressor or industrial blower is right for you.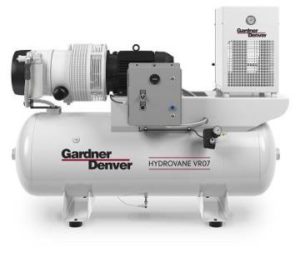 What is Gardner Denver?
For more than 150 years, Gardner Denver has served many industries with the highest quality of compressed air and blower solutions. Drawing on this historical expertise and experience, Gardner Denver continues to aim for the highest standards of innovation and development in these areas. 
From its modest beginnings as a small business out of Quincy, Illinois, Gardner Denver has grown its reach to impact an international market. Today, Gardner Denver supports applications from aerospace to pharmaceuticals to textiles and wastewater and much more. It remains a leader in industry and application-specific air compression systems and blower products and services. 
Gardner Denver Air Compressors
Gardner Denver offers air compressor options to fit a wide range of commercial applications, in sectors such as industrial, energy and medical. There are a variety of factors such as operational pressure, cooling method and airflow velocity to consider when choosing the right air compressor. 
Most vital, however, is deciding which technology platform to start with. From here, the factors already mentioned can be added to design the optimal air compressor system for your needs. 
Gardner Denver emphasizes a tiered-offering model for its air compressor technologies, which doesn't singularly reflect advancing quality as you move up the tiered ladder. More accurately, it indicates a range of options to suit particular applications. Different compressor technologies are designed to accommodate different needs in this area. These are the technology platforms Gardner Denver offers and each platform's advantages:
Reciprocating –

A low installation cost is a big benefit here, not to mention a low-maintenance cost.
Rotary Screw –

This technology format features compressor efficiency and a low noise level with the highest level of durability.
Rotary Vane –

Another eco-friendly option, the rotary vane configuration has the advantage of a low noise level 
Rotary Scroll –

This option delivers a small footprint, low installation cost and low noise level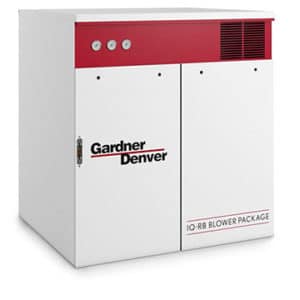 Gardner Denver Blowers
Gardner Denver specializes in positive displacement blowers, which rely on a core technology that leverages an adaptable blower configuration designed to move air through a variety of industrial applications. Industrial applications that benefit from a positive displacement platform include chemical, dairy, aquaculture, oil & gas, dry bulk, power generation and much more. 
The positive displacement process starts with a discharge of air into a pipe or hose in order to move materials. This air is then pulled into the inlet port by rotors, and forced into tight spaces between the rotors and casing before the air is pushed to the outlet pipe or hose. 
Gardner Denver offers a second-to-none selection of positive displacement blowers, including the following blower technologies: 
Straight Bi-Lobe Technology – Includes two figure-eight rotors (or lobes) that rotate
Straight Tri-Lobe Technology – Utilizes straight rotors with a three-lobe design. This format is less noisy and features a lower pulsation than the Bi Lobe blower.
Twisted Tri-Lobe Technology – Features helical tri-lobe rotors and the advantage of a smoother pulse operation to extend the life of the bearings
Helical Screw Technology – Includes helical rotors with a unique screw design that optimizes energy savings 
Besides individual blower units, Gardner Denver offers blower packages to accommodate more diversified solutions. 
Where Can I Find Gardner Denver Products?
Those in the market for air compressors and/or blower solutions can partner with a trusted Gardner Denver distributor such as Cullum & Brown. Not only is Cullum & Brown a one-stop shop for air compressor and blower systems and components, but it's also a single source of support for the lifecycle of your system or component—from service to maintenance and repairs. For a quote or to discuss your particular compressor or blower outfitting needs, simply complete this contact form with the details of your project and a Cullum & Brown representative will reach out.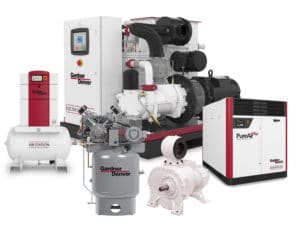 In conclusion
The right air compressor or blower solution can enhance productivity, quality and efficiency for many applications and industries. Cullum & Brown has served the commercial and industrial business communities for more than 135 years and continues to offer industry gold-standard product lines like Gardner Denver for air compressor systems and blower solutions. 
Ready to get started choosing the right air compressor system or blower for your company or application? Give us a call today!